Laminate Flooring in Timonium, MD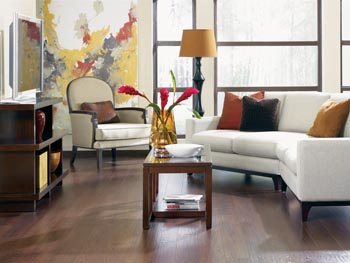 Do you need a little bit of inspiration for your renovation project? Then it's time to visit the experienced, friendly staff at Jim Boyd's Flooring America. With an expansive range of options in an assortment of colors, patterns, and textures, we're certain you'll find something at our flooring showroom that strikes your fancy. If you need help deciding, our sales team is always nearby to assist.
When you are looking for a flooring material that works well both functionally and aesthetically, we recommend that you consider laminate. Due to advances in manufacturing technology over the past few years, laminate flooring has become more durable and beautiful than ever before. Able to mimic the look and feel of hard surfaces like wood and tile, this versatile material is great for anyone who wants something new.


Laminate Wood Flooring for the Look and Feel of Hardwood
The warm, inviting look of hardwood is attractive to many homeowners. But unfortunately, it has one major flaw--it doesn't do well in moisture-rich rooms like bathrooms, kitchens, or laundry rooms. Laminate hardwood flooring is a great solution. Because of its construction, it has a non-porous surface, allowing it to stay resistant against mold and mildew. Furthermore, it doesn't expand and contract as much as hardwood does, making it ideal for these high-moisture areas.


Laminate Tile Flooring Perfect for Any Room
Of course, laminate doesn't have to be just for bathrooms and kitchens--you can use it in any room of your home. With laminate tile flooring resembling stone or ceramic, you can get the refined look you want for your living space.
Whether you want laminate tile or laminate wood flooring, you can count on us for the high-quality products you deserve. Among our vast inventory is an array of top name brands. Our sales staff is happy to help you find the stain-resistant, wear-resistant brands that best suit your individual needs.


Guaranteeing Your Complete Satisfaction
We take pride in providing the right level of assistance throughout the selection process so you can have complete confidence in your purchase decision. However, we do know that sometimes, you may picture the flooring differently in your mind than it ends up looking in your home. With our Confidence Plus Warranty, if you are unsatisfied with your 4 or 5 Star-rated laminate floors, you can contact us within 30 days, and we'll replace it for you--we'll even pay the labor costs.



Contact us today to learn more about our laminate flooring. We proudly serve customers in and around Timonium, Towson, Carney, Cockeysville, and Butler, Maryland.