Luxury Vinyl Flooring in Timonium, MD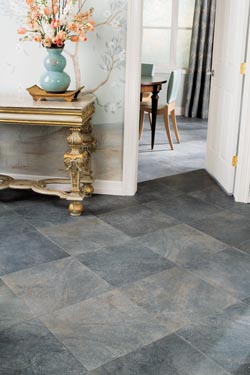 If you are looking for beautiful floors that can be used in virtually any space, Jim Boyd's Flooring America recommends our luxury vinyl flooring. If you're like most of the homeowners who come into our showroom, it has probably been several years--maybe even decades--since the last time you redid your floors. A lot has changed in that time, and it has changed for the better.
Manufacturing of luxury vinyl tile and plank products has gotten highly advanced. Not only do manufacturers now have more style options to choose from, but they can also make vinyl much more durable than years past. Additionally, vinyl floors are created with different textures to feel more like the materials they mimic.


Beautiful and High-Quality Luxury Vinyl Tile
Choose a versatile, resilient material when it's time to redo your floors. At our flooring store, we are always eager to meet your specific needs. To do this, we work with you to determine what your goals and budget and show you samples that meet your requirements.
Our goal is to offer flooring that matches your style and decor perfectly. With a variety of resilient flooring choices available in different colors, patterns, and textures, we're sure you'll find what you need. While our inventory is vast, our team helps you sort through it to find what works best for you. Our sales team gives you all the information you need to narrow your options down to just a few. Afterwards, our in-store design staff can show you what each choice might look like in your space so you can make a final decision with confidence.
No matter which style of luxury vinyl flooring you choose, you can count on the quality of the materials. Not only do the manufacturing processes make this a very resilient material, the brands we carry also speak to the durability of the products. With top name brands like IVC, Armstrong, Mannington, Congoleum, and Tarkett, you know whatever you buy will have the strength you're looking for.


Offering Truly Resilient Flooring
When we talk about resiliency, we don't just mean how well the floor holds up over the years but also how it springs back after a lot of wear. Luxury vinyl flooring is a unique hard-surfaced floor because it has a little give to it. This little bit of cushion makes it ideal for spaces like the kitchen where you're on your feet more often than not.



Contact us today to learn more about our luxury vinyl tile. We proudly serve customers in and around Timonium, Towson, Carney, Cockeysville, and Butler, Maryland.