Durable Luxury Vinyl Flooring in Timonium, MD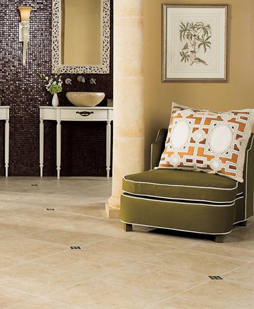 When you are ready to take on that flooring project you've been putting off, you can rely on our company to provide you with top-quality luxury vinyl tile in Timonium, MD. This product is a beautiful alternative to tiles and hardwood and can also mimic those types of flooring, making it a favorite with a great many people.
If you've ever wanted wood or stone floors, but were worried about the upkeep required to keep them looking their best, this is the ideal choice for you. Readily available in a wide range of attractive styles, you're sure to find a product that suits your style and design goals.
At Jim Boyd's Flooring America, we know that you can be assured when laying this flooring in your own home, you will be using a high-quality product that has been made to last for years to come. With this type of resilient luxury vinyl tile floor, it's a sound financial decision as well.


Long-Lasting Comfort
The products in our inventory are selected based on criteria for consistent customer value. By shopping in our showroom, you can take advantage of one of the most extensive selections of quality flooring materials in the area. Our knowledgeable specialists can help you choose your materials, as well as our efficient installation services.
Your home has always been the place you feel most comfortable. Our products will provide a pleasurable surface with simple maintenance and the capacity to support your family's favorite activities, so you can always remain comfortable in your surroundings. With great-looking, resilient luxury vinyl tiles that's pleasant to the eye, and underfoot, you'll be able to enjoy any room in your home with elegant style.


Enjoy the Immeasurable Benefits
It might seem odd to classify this type of flooring as eco-friendly. Certainly wood and stone would fall easier into that category, however, because of the longevity of this flooring, it won't need a replacement for many years. This flooring, will in turn, reduce materials and energy costs in your home. It's easy to repair or replace, additionally saving cost over the lifetime of your home or office.
So, you can look forward to multiple benefits including, ease of luxury vinyl tile floor installation, and a wide variety of styles, textures, and easy maintenance. Enjoy all the advantages of tile flooring by visiting our showroom today. Discover more about how our staff of professionals can help select your new floor and arrange installation.



Contact our lvt floor staff today about your home or office flooring needs. We proudly serve Towson, Carney, Cockeysville, Butler, MD, and the surrounding area.