Tile Flooring in Timonium, MD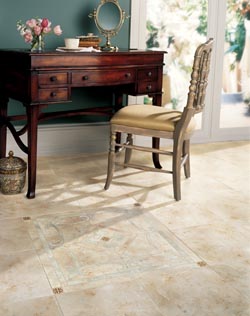 Is it time for a change in your home? No matter what room you're currently unsatisfied with, tile flooring might be the change you need. Available in different materials, textures, colors, and patterns, tile offers limitless options for your interior decor.
When you come to Jim Boyd's Flooring America to purchase your new floors, we help you throughout the entire process. We take the time to get to know your goals and your preferences, which makes the experience of selecting the right tile much easier.
After you know exactly what you want, you can take advantage of our tile flooring installation services. We offer quality installation that ensures the tiles and grout are perfectly even. In fact, if you ever experience an installation-related problem, we'll fix it at our expense.


Why Should You Install New Tile in Your Home?
Whether you choose porcelain or ceramic floor tile for your living space, you'll get to experience many benefits you may not have thought about. Most homeowners know of the liquid-repelling qualities of tile. This is because of the glazing over the surface of the tile, making it non-porous. This glazing also makes the surface less prone to mold and mildew growth, which not only makes your indoor air quality better but also makes your floors easy to clean.
Tile flooring also offers a lot of versatility. With different colors, sizes, textures, and patterns available, you can choose one type of tile for your whole floor or mix it up for a completely unique look. Many customers choose alternating colors or include border tiles to better define the spaces in their homes. With top name brands like Dal-Tile, Happy Floors, Emser, Florida, and American Olean, you know you're getting quality tile flooring no matter what color or texture you choose.


Let Us Help You Choose the Perfect Ceramic or Porcelain Tile
When people visit our showroom for the first time, they are often awestruck by the sheer amount of flooring we carry. But with our professionals by your side, it's not hard to sort through it all. Our sales team works with you to help you determine what material and style works best for your needs.
Once you have a couple ceramic or porcelain floor tile options picked out, our in-house design team helps you narrow it down to just one by showing you what each option may look like in your home. This way you can be completely sure about your final choice.



Contact us today to learn more about our tile flooring. We proudly serve customers in and around Timonium, Towson, Carney, Cockeysville, and Butler, Maryland.