Improve Your Home with Waterproof Floors in Timonium, MD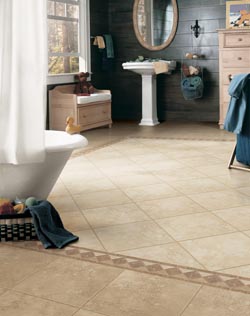 Redefine your space with Jim Boyd's Flooring America. At our showroom, you will find hundreds of waterproof floors in Timonium, MD. With our large catalog and personalized approach to service, you have the power to turn your remodeling ideas into a reality. Visit our showroom today to discover a world of interior design possibilities.
Whether you are re-flooring a single room or your entire property, we have the materials and support you need to attain picture-perfect results that last. It all begins with our client-oriented approach. We take the time to learn about your project. From there, we help you find the right flooring that meets your needs. Hands down, we make your project go smoothly.


Waterproof Flooring Has Many Advantages
Get flooring that will improve the strength and appeal of your interior. We've teamed up with the leading manufacturers to offer a large selection of waterproof flooring. These products are well-known for their visual appeal and durability.
Water-resistant floors have a reputation for everyday dependability. Waterproof luxury vinyl planks, for instance, are a category of solid surface floors that repel liquid, dirt, dust, and stains. It is easy to clean and maintain. As such, they are a great addition to virtually any room, including the kitchen, bathroom, common areas, hallways, and more.
Luxury vinyl planks bridge the gap between form and function. Thanks to advances in manufacturing, this flooring material is available in many different designs. These products are also available in the appearance of premium materials, such as solid hardwood.
When your project plans call for imparting a welcoming and comfortable ambiance; you cannot go wrong with water-resistant carpet. This flooring material uses specialized dyes and fibers that give it a protective barrier that repels spills. Give your common areas and bedrooms a distinct look and feel that will look great--day in and day out. We have carpeting in a variety of colors, textures, and styles.


We're Here to Complete Your Flooring Installation
From start to finish, you can count on us to assist you at every step of your re-flooring project. Our helpful associates can help you pick the flooring that best matches your interior design goals. We feature samples of flooring in a variety of materials and styles, giving you the flexibility and freedom to pick the products you love.
When you're ready to place your new flooring, we're also here for you. Our showroom facilitates water-resistant flooring installation by professionals. We'll work out the details and deliver services according to your schedule, ensuring your project is successful.



Contact us to learn how you can beautify your home with waterproof floors. Our showroom is located in Timonium, MD, and we serve Towson, Carney, Cockeysville, Butler, and the surrounding area.